Published February 26, 2017
Saga is the graphic novel to read for everyone. While that's been mentioned on Popculture-y before, it's something that bears repeating. It's a perfect introduction to the visual storytelling medium for those that don't normally read graphic novels, and a juicy addition to your collection if you live on a steady diet of comics and graphic novels.
There's so much that I  loved about Saga; the visuals, the story, the characters and its diversity. Saga is an excellent read that I devoured in forty minutes – I think that's a new record for me! Let me start by gushing, and raving about Fina Staples' illustrations. I was in awe of the attention to detail in some chapters and panels. There's the delicate shading of night time scenes, to the level of detail that was put in the drawing of the crinkle of a plastic bag, and even the static of a television screen. There was a balance between the amount of attention placed in the minuscule things, and the bigger things, like characters and rocket-ships. Staples embraces the harshness of the sci-fi genre, and as a first-time graphic novel reader, I'm excited to see where she takes her illustrations in the other volumes of the series, and to see whether or not the tone she created in Saga Volume 1 will be consistent with the rest of the Saga series (editor's note – it is!). The dialogue married with the artwork in such an enchanting way, that I was mesmerised from start to end. Visually, the tone of the overarching narrative was consistent unless there were point of view changes. This consistency was, again, established from the first few pages, when baby Hazel is born. It's a bloody mess, but Staples doesn't shy away from the gore, nudity, and, in some cases, absurdity of the world Brian K Vaughan has created. It truly is a visual masterpiece.
The story itself was an extravagant blend of sci-fi, drama, humour, puns, and love. But it wasn't a typical boy meets girl, they get together romance. Nope. This was a family love story. There was a father, mother, and a new born baby that we were introduced on page four. Along the way, the audience is introduced to a variety of colourful characters, who are trying to hunt down this family of star-crossed lovers and their child. We are invited to these characters' point of views, which I thought worked brilliantly within the scope of the Saga world, because it showed the brutality of Cleave – the plant in which Saga Volume 1 is set on – and its spacey neighbours. This rotation of point of views kept me on the edge of my seat, as one scene ended with the family, and another began with one of the groups trying to hunt them down. And that's what I want from science fiction graphic novel, to be kept on my toes at all costs in a high-octane adventure for survival. Luckily Saga kicked this want out of the ball park.
There's also a fair amount of diversity in Saga which I enjoyed, because I've found there's not a lot in regards to racially diverse sci-fi books, graphic novel or otherwise, out at the moment. And this made me fall in love with Saga even more.
The pacing of the Saga was sensational, and, like I said before, kept me on my toes throughout the devouring of this story. When it did appear a bit slower than normal, the dialogue and character interaction was witty, clever, and made up for it. There is also lot of swearing, nudity, and gore, and this would understandably deter a lot of people from reading it.  I found that it was another layer to both the characters and the world of Saga. It just worked so well that it didn't seem too brazen or out there.
Every single character gave something to the story. From a ghostly babysitter, to a literal grease monkey, every figure the page added  complexity to the story. Our protagonists, Alana and Marko, live and breathe off the page. From the first image, and first line of dialogue, I was infatuated with these two, and when baby Hazel was born, I was rooting so hard for them to escape Cleave.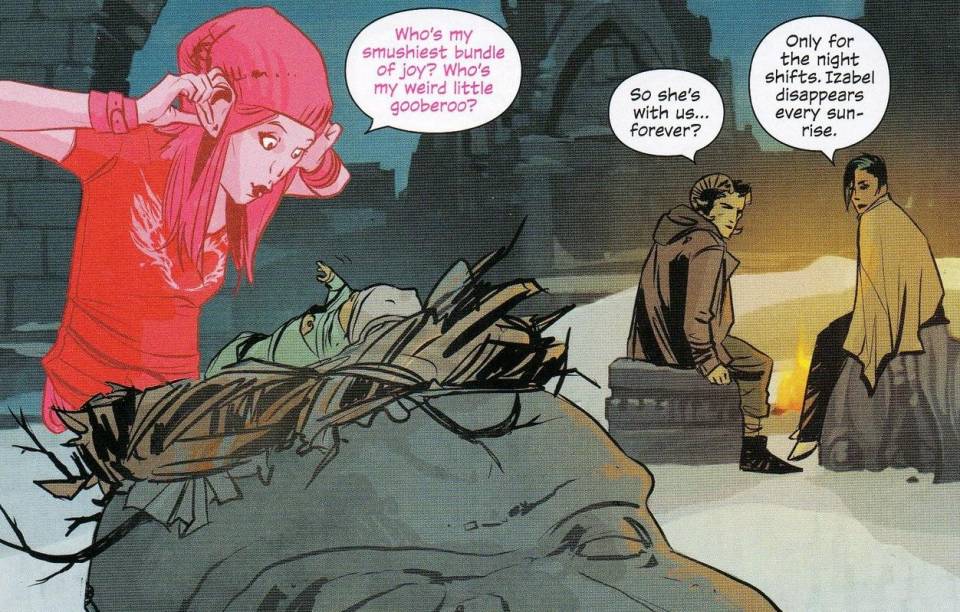 There was no info dump, which I was pleasantly surprised by. The narrator gave out tidbits of information, not enough to overwhelm the reader, but enough to help them connect the dots. It was a refreshing component for a sci-fi novel – even though it had pretty pictures, and pictures do tell a thousand words – and it's something that I'll enjoy as I continue the series.
Overall Saga Volume 1 is the perfect avenue for those new to the comic/graphic novel genre, or for those who have been reading comics for as long as they can remember. Saga's visual storytelling combines brilliantly with the sharp dialogue, in a plot that will draw you in until the very last page. After the last page, you'll want the next volume as soon as possible to know what happens to these beautiful characters in their brutal world.
Saga is published by Image Comics and is available at all good comic book stores and online.